The Story of the Copts
How do you explain the word "Copt" to a child in a clear, joyful, prideful manner without focusing too heavily on terms such as persecution, ancient, and 2000 years old? Try this exercise, and you will find, as I did, that it is not so easy! Try explaining what it means to be a Copt to an adult without giving them a crash course in geography, theology, history, and politics, and you will face a similar challenge. The word "Copt" is both simple and complex. It is a word that encompasses our identity, ethnicity, and faith. It might be one of the most complicated words to define, to paint with pictures.
This is why the Story of the Copts, written by my beloved friend Laura Michael (creator of Coptic Dad and Mom), is an absolute treasure. One I wish I had growing up to pass to my friends as a crash course on my identity. One that is gorgeously illustrated without the drawings distracting from its essence. It could be the biography of any of our families because it is the biography of all of our families. It represents us while respecting our individuality and personal trajectory.
The lands of immigration are far and wide, making Laura Michael's children's book a masterpiece in its inclusivity. A child in Australia, one in the United States, and a third in Canada, could be simultaneously reading the book in their respective time zones and feel represented within its pages.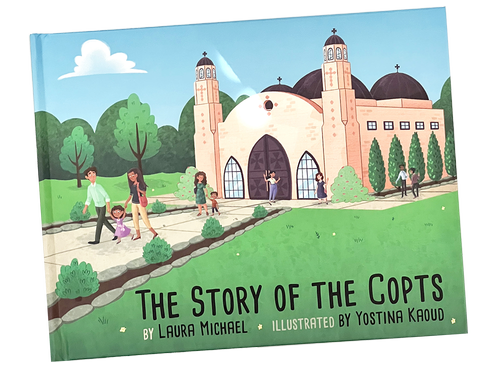 I realize that pride is the "mother of all sins," but I just could not help but feel a sense of pride as I turned the pages, not wanting the book to end, almost as though it was a page-turner (it is) even if I know the beginning and the continuing chapters of this gem.
Global Coptic Day is June 1st–I can't think of a better way for our children to celebrate our Coptic heritage than by reading and re-reading The Story of the Copts with their parents and grandparents. Laura went even further by inserting illustrations/clues that will jumpstart discussions about other Coptic stories/traditions of our faith that transform the book into an interactive experience, one that teaches and inspires at the same time.
Coptic Beauty
And now a word about Yostina Kaoud, the illustrator: WOW. I feel very inarticulate (a humbling moment), but I can't find a better word to describe how her illustrations have touched my heart. After all, this is a children's book, but I stared at the pictures for longer than someone my age should. I went back and forth to look at specific details, revelling in the beauty of the illustrations. I could frame each page as a painting and it will elicit admiration!
P.S. The Story of the Copts is currently on special in honour of Global Coptic Day- do NOT miss this opportunity to grab your copy and a slice of our history! Use code GCD2022 to get a 40% discount through May 31st.
Another Coptic Gem
Lest you think that Yostina Kaoud is only versed in one type of illustration, she collaborated with my beloved friend, Madona Lawindy, on another delightful and empowering children's book called I'M In Charge. The illustration style in this book drastically differs from the Story of the Copts but is equally gorgeous in its rights!
Let us take a moment to discuss why this is another Coptic gem that belongs on your bookshelf and should be read and re-read every week. The book takes a common challenge faced by thousands of Coptic parents and turns it into a magnificent learning experience in self-control.
First, let us discuss the challenge: keeping children focused, engaged, and reverent (read: quiet) during the Liturgy. Let us face it, adults find Liturgy long at times (or most of the time). Can you imagine how an active five-year-old child might be feeling by the time the Gospel is read (if they have been at church since Matins)?
I struggled with this same challenge when I raised my son at that age. That same challenge inspired me to write Philo and the Patience SuperHoly! This tells me that most, if not all parents, face the same weekly hurdles during Liturgy, and we are all looking for tools and resources to help us and our children benefit and enjoy, yes, enjoy Liturgy.
Madonna changes the narrative in such a brilliant fashion. If I could, I would present her with an award for ingenuity. While I was looking for ways to help my son develop his patience and remain attentive, Madonna gave the power back to the children by reminding them they were in charge! They are in control of their actions, their thoughts, and their emotions. I can't continue to praise the book without giving too much away, but suffice to say that I have leveraged the lessons I learned in the book when I attended Liturgy last Sunday.
You can pick up a copy from the same outstanding shop (Coptic Dad and Mom) and combine the shipping! 
Yes, this is a children's book, a delightful one, but adults will equally benefit from learning and applying the lessons Madona has lovingly transmitted to us in this Coptic gem.
Global Coptic Day – Our pride and Joy
Happy Global Coptic day, everyone. We have Nader Anise (founder of Coptic Chamber of Commerce) to thank for this day becoming a reality and a worldwide phenomenon. With so much Coptic talent, creativity, initiative, and empowerment, is it any wonder that I am feeling proud this year?
Yes! Coptic and Proud!
In Christ,
Mireille
Other articles you might enjoy: Coptic Renaissance 
Additional Coptic resources on this topic: SUS- Global Coptic Day Press Release

Like this post? Please share it:
Get your copy today!
Shop our Books & Products by clicking Here
Please note this post may contain affiliate links and ads; read my full disclosure here.
Subscribe to our Newsletter: https://mireillemishriky.com/newsletter-form/
Follow me on Facebook: https://www.facebook.com/Mireillemishrikyauthor
I am on Pinterest: https://www.pinterest.com/mireilleauthor/
YouTube: https://www.youtube.com/channel/UCd6hs5jirDORKgS9IpbSm7w
Visit me on Instagram: https://www.instagram.com/mireille_mishriky_author/
Books available on Amazon.com: https://amzn.to/3dkVWa2
Books are available on Amazon.ca: https://amzn.to/3A8MkZF